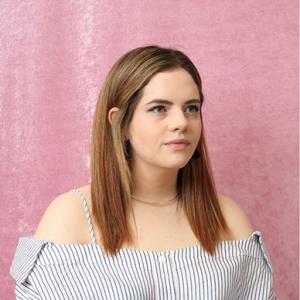 Adria Mirabelli
Adria Mirabelli graduated from The Ontario College of Art and Design in 2015 with a major in Drawing and Painting and minor in Fibre. Having also studied at Parsons Paris, her work is influenced by craft and design processes. Her practice is driven by an experimental approach to mark-making whereby she integrates textile manipulation processes with drawing and painting to create large scale works on silk, felt, vinyl and paper. Adria has created site specific installations at Gallery 1313, Xpace Cultural Centre and Artscape Youngplace and was a resident at The Roundtable Residency in 2015. She lives and works in Toronto.
---
Favourite artist(s) right now
Travess Smalley, Amanda Ross-Ho, Eva Hesse, Tauba Auerbach, Matthew Palladino (and many more!)
Favourite musical artist / band right now
Music is so vital when working, it's incredible how much it can influence and inspire you. I'm super into Apple music at the moment as it creates custom playlists based on what you listen to. It gets me! A few favourites at the moment include Solange, Frank Ocean (always and forever), Rex Orange County, Mick Jenkins and FKA Twigs.
Coffees per day and from where
Always thinking about my next tea break.
During my breaks, I tend to ...
Walks are very helpful mental breaks! A serious plus if theres a park nearby.